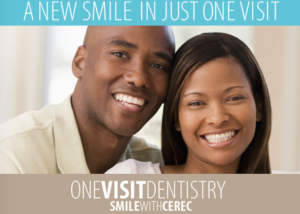 When comparing dental crowns made with the in-office CEREC® system and crowns fabricated by a ceramicist in a dental laboratory, it is important to analyze each method with respect to the following points:
Durability – Both CEREC® and lab-made crowns can be constructed from a wide variety of ceramic materials. Speak to Dr. Robert Rioseco about which material he plans to use for your crown and which options are available to you. In addition to how you care for it, the durability of your crown will depend upon the material used to make it. The most durable and life-like ceramic materials in use today can be used to craft crowns either in a lab or a CEREC® machine.
Fit – There is some debate about which method yields the best fit. Some experts argue that lab-made crowns offer a more snug fit than CEREC® restorations; however, these near microscopic variations can be attributed to the method of impression used (manual impressions or 3D imaging) and the skill of the ceramist/CEREC® operator. Fit achieved with digital imaging far surpasses the results achieved with stone casts.
Convenience and efficiency – CEREC® is by far the most convenient and efficient method for creating a ceramic crown. CEREC® restorations can often be planned, milled, and placed in one trip to Dr. Rioseco. Lab-made crowns require several more steps, time, and visits to the dentist than CEREC®.
Appearance – The aesthetics between the two types of crowns is remarkably similar. Still, there is much debate among professionals about which type of crown is most realistic and aesthetically appealing. Again, the answer comes down to the material used to create the crown and the skill of the ceramist/CEREC® operator making the crown. If appearance is very important to you, we encourage you to view before and after photos of patients who have received lab-made crowns and CEREC® crowns to see if you can detect any differences for yourself.  
Skill – Skill of the dentist can be the greatest determining factor when it comes to the crown fabrication results that can be achieved in a lab versus the dental office with CEREC®. Dr. Rioseco has extensive experience and training with the CEREC® system and operates advanced imaging, software, and machinery from Sirona to create the highest quality crowns for his patients.
To learn more about which dental crown option may be right for you, we encourage you to contact our practice to schedule a consultation with Dr. Rioseco.