Cosmetic Procedure Costs
The exact cost of cosmetic dentistry procedures tends to fluctuate based on the unique aesthetic goals and dental needs of each patient. For those interested in learning about the average price range of the cosmetic treatments we offer, we have provided a general cost table for many of our services below. To get a precise estimate for the cost of a customized cosmetic treatment plan, we suggest scheduling a consultation with Dr. Rioseco.
| Procedure | Average Cost |
| --- | --- |
| Dental Bonding | $250 – $800 |
| Home & Office Teeth Whitening | $300 – $700 |
| Invisalign® Orthodontics | $2,500 – $6,500 |
| Laser Gum Surgery | $425 – $2,000 |
| Porcelain Veneers | $2,000 per tooth |
| Dental Crowns | $1,800 – $2,500 |
| Tooth-Colored Fillings | $250 – $500 |
If you would like to find out more about our pricing or the many financing options we offer to make treatment more affordable, we encourage you to contact our office.
Laser Gum Lift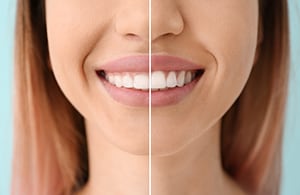 A laser is used to remove overgrown gums and expose the beautiful teeth hiding underneath. This simple procedure can lengthen the teeth in one short visit. It is often combined with placement of porcelain veneers, allowing for an even smile both at the tops of teeth and at the leading edge.
Direct Bonding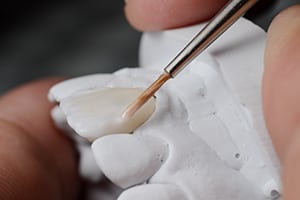 Direct bonding can be done on teeth with minor discrepancies in color, shape and position. A less expensive alternative to porcelain veneers, direct bonding can be done to enhance the smile in younger patients and in those who cannot afford to place porcelain on multiple teeth.
Replacement Fillings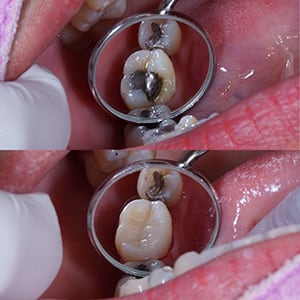 Replacement of old, worn silver amalgam fillings with composite fillings or CEREC ceramic inlays or onlays is an excellent way to enhance the look of your mouth and to bring your dentition up to date. Silver fillings, which contain other metals including mercury can wear out and corrode. This process can leach metals and stain into the teeth causing discoloration. Distorted metal fillings can also cause undue stress to teeth and cause teeth to fracture. Replacement of this metal with more up to date materials can enhance the look of the teeth while strengthening them and keeping them free of disease.