The Zoom® Teeth Whitening Procedure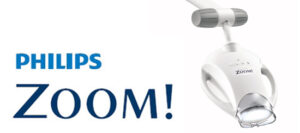 During the ZOOM® teeth whitening procedure, a special gel will be applied to the surface of your teeth. A low-intensity light will then be guided over the teeth, which activates the gel and allows for oxygen to penetrate into the dentin and enamel. This action is designed to create a bleaching effect, helping to reduce visible signs of yellowing and staining along the teeth. The entire treatment typically takes about an hour and-a-half or less, and results are often immediately noticeable.
How Long Do Teeth Whitening Results Last?
Although no method of teeth whitening is permanent, Dr. Rioseco offers a number of tips that can help your teeth remain white after your professional whitening treatment:
Maintain good daily oral hygiene to remove debris and reduce surface stains
Limit foods and beverages that are known to stain the teeth, such as berries, tomato sauce, red wine, tea, and coffee
Avoid all tobacco products
Schedule routine cleanings with your dentist
When you feel your teeth have lost a little bit of their luster, touch-up whitening treatments with an at-home kit can extend the life of your bright white smile.
What Are the Benefits of Teeth Whitening?
Even with good dental hygiene habits, the teeth can be affected by a certain amount of discoloration over time. Teeth whitening is often a very effective treatment for patients who would like to renew the appearance of their teeth with a whiter and fresher look. ZOOM® teeth whitening has a number of benefits, including the ability to improve the appearance of yellowing and staining caused by:
Consumption of coffee, wine, and tea
The use of tobacco products
The natural process of aging