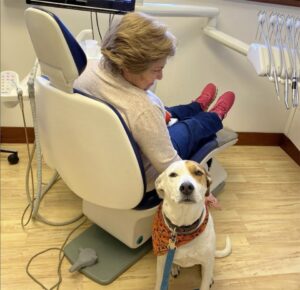 At The Center for Cosmetic Dentistry, we take a true "team approach" to the new patient experience and to your re-care appointments as well.
On your initial visit, you will be greeted on-time and you will receive a very thorough examination by both by one of our hygienists and Dr. Robert Rioseco. The examination will include an oral cancer screening with our new Velscope Oral Cancer screening device. This machine uses ultraviolet light to identify and document any suspicious, possibly cancerous or precancerous lesions in the oral cavity.
A periodontal exam will also be completed, evaluating all of the soft structures around your teeth and assuring us of the condition of your gums especially. After reviewing your health history, the doctor will listen to your concerns about your teeth, their function and their aesthetics. Oftentimes, digital photography will be used in evaluating and discussing your smile. We also use early cavity detection technology in the form of the Diagnodent.
Diagnodent is a tool the doctor can use which works on a frequency of laser light which makes caries-infected teeth glow at a certain wavelength. That glowing is then measured by this precision German instrument and produces a number and a corresponding audible tone. Records can be kept of these numbers to compare at a later date and thereby gauge the growth and severity of a cavity.
Intraoral cameras are frequently used in the practice for the purpose of demonstration and informing our patients of any conditions they may have. This camera, which goes inside the mouth, can also be very helpful in explaining to parents the condition of their child's teeth.
Once all of this is completed, the hygienist can clean your teeth. We use a variety of polishing agents, hand scalers and air driven stain removers to give you the most thorough cleaning you have ever had.
Contact the Center for Cosmetic Dentistry
If you would like to schedule an appointment, or if you would like more information on a smile evaluation or other procedures available at our practice, please contact The Center for Cosmetic Dentistry.