What Are My Cosmetic Laser Treatment Options?
Utilizing various laser wavelengths and specialized treatment handpieces, the versatile Fotona LightWalker laser platform is able to deliver noticeable cosmetic improvements in skin quality and/or lip fullness. The specific treatments currently offered at The Center for Cosmetic Dentistry include the following:
LipLase™ Lip Plumping Treatment
The non-invasive LipLase™ treatment uses the power of light energy to enhance lip fullness by stimulating natural collagen production in the tissue. The Fotona SMOOTH® laser setting employs a Er:YAG laser, which stimulates the mid to deep tissue of the lips without damaging the lip's surface. In response to the laser energy, the tissue initiates natural healing and regeneration processes, which result in the production of new collagen fibers that can beautifully enhance lip volume. This treatment can be long-lasting and is well-suited for patients bothered by aging-related volume loss, imbalanced upper and lower lips, and lack of vermillion border definition. Dr. Rioseco's vast experience with lasers makes him an excellent choice for performing this procedure. With a precise and carefully customized approach, Dr. Rioseco can create exceptional results that look both natural and beautiful. Following LipLase™ treatment, patients typically do not require downtime, and results should improve over subsequent weeks as collagen genesis continues to take place.

SmoothLase® Facial Rejuvenation
Aging skin around the mouth, chin, cheeks, lips and jawline can be effectively rejuvenated with customized SmoothLase® treatments. Dr. Rioseco performs non-invasive SmoothLase rejuvenation to reduce mild to moderate wrinkles and signs of sagging skin in these key areas. SmoothLase rejuvenation is unique in that treatment is performed on the tissue inside of the mouth (intraoral) to bring about visible improvements to the external appearance of the face. Based on your areas of concern and the cosmetic goals you hope to achieve with SmoothLase, Dr. Rioseco creates a detailed treatment plan that targets the structural tissue from within the mouth. During treatment, laser energy is applied to the tissue, which stimulates a tightening response and the production of new collagen fibers. This gentle process is often virtually painless and does not require any downtime. For optimal results, treatments can be repeated at recommended intervals. For several weeks following the treatment sessions, patients should notice an improvement in results as collagen continues to form within the tissue. Once the full course of treatment is complete, the majority of patients are thrilled with the more youthful appearance of their face.
Spider Vein Removal (Face & Neck)
Spider veins on the face and neck can affect an individual's complexion and are often difficult to conceal with cosmetics. Ultimately, they can make one appear older than they really are. For a clearer, more radiant complexion, Dr. Rioseco may recommend state-of-the-art laser therapy as an ideal treatment to remove spider veins. Using the Fotona LightWalker and a specialized handpiece, Dr. Rioseco is able to effectively clear spider veins from the face and neck. The thermal energy from the laser causes spider veins to coagulate without affecting the surrounding tissue. The body's healing response breaks down and clears the damaged veins from the tissue through natural processes. An anesthetic numbing cream applied prior to treatment helps mitigate any potential discomfort from the laser, and most patients report the process being virtually painless. Some mild swelling and redness following treatment is to be expected and is only temporary. After laser spider vein removal, patients are typically thrilled with the healthier, clearer, more youthful appearance of their face and/or neck.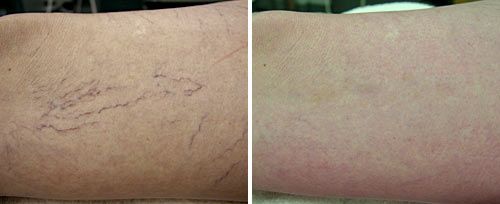 If you have concerns about visible signs of aging, lip volume, or spider veins, we encourage you to contact our practice to schedule a consultation with Dr. Rioseco and discuss your treatment options.