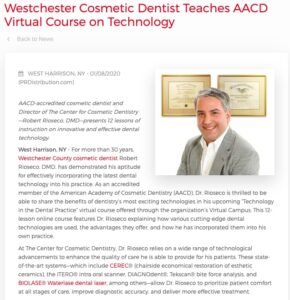 AACD-accredited cosmetic dentist and Director of The Center for Cosmetic Dentistry—Robert Rioseco, DMD—presents 12 lessons of instruction on innovative and effective dental technology.
West Harrison, NY – For more than 30 years, Westchester County cosmetic dentist Robert Rioseco, DMD, has demonstrated his aptitude for effectively incorporating the latest dental technology into his practice. As an accredited member of the American Academy of Cosmetic Dentistry (AACD), Dr. Rioseco is thrilled to be able to share the benefits of dentistry's most exciting technologies in his upcoming "Technology in the Dental Practice" virtual course offered through the organization's Virtual Campus. This 12-lesson online course features Dr. Rioseco explaining how various cutting-edge dental technologies are used, the advantages they offer, and how he has incorporated them into his own practice.
At The Center for Cosmetic Dentistry, Dr. Rioseco relies on a wide range of technological advancements to enhance the quality of care he is able to provide for his patients. These state-of-the-art systems—which include CEREC® (chairside economical restoration of esthetic ceramics), the iTERO® intra oral scanner, DIAGNOdent®, Tekscan® bite force analysis, and BIOLASE® Waterlase dental laser, among others—allow Dr. Rioseco to prioritize patient comfort at all stages of care, improve diagnostic accuracy, and deliver more effective treatment.
Dr. Rioseco considers himself an early-adopter of many of the latest technologies used in general, cosmetic, and restorative dentistry treatments. He explains that he noticed the overwhelming benefits that certain technologies could provide his practice and has sought out the most advantageous systems to:
Streamline workflow
Provide higher-quality results more quickly
Enhance the aesthetics and longevity of outcomes
Support the patient education process
Deliver improved diagnostic accuracy
Improve patient comfort before, during, and after treatment
Detect issues requiring treatment sooner for effective early intervention
Customize treatment plans for patients' unique needs, dental anatomy, and goals
Dr. Rioseco's proficiency with dental technology is well-known by his peers in the AACD. Through the member accreditation process, which he completed successfully in 2019, Dr. Rioseco demonstrated his skill and experience with these innovations in the patient cases he presented to the examination committee. Since achieving accredited member status by the AACD, Dr. Rioseco is honored to have been asked to share his technological knowledge through the AACD Virtual Campus. As an enthusiastic proponent of and participant in continuing education coursework, Dr. Rioseco finds teaching this virtual course to be a natural fit for the current arc of his career. Those who take the course will also benefit from Dr. Rioseco's years of teaching experience. In addition to managing his private practice at The Center for Cosmetic Dentistry, Dr. Rioseco also runs an advanced cosmetic dentistry training program on-site, which focuses on providing hands-on instruction.
Ultimately, Dr. Rioseco hopes his virtual course helps introduce other dentists to the significant benefits that various technologies can have in all areas of the dental practice. He welcomes dentists from all backgrounds to consider his course, saying it is a great way to become better acquainted with new or under-utilized dental technology.
About Robert Rioseco, DMD, FAGD
Dr. Rioseco is a leading cosmetic and restorative dentist in West Harrison, New York and the Director of The Center for Cosmetic Dentistry. At this facility, Dr. Rioseco operates a state-of-the-art dental practice and a teaching program for other dentists. He has more than 30 years of experience in private practice and is a graduate of Boston College (undergraduate) and Tufts University School of Medicine and Dentistry. In 2019, Dr. Rioseco was distinguished among his peers as an Accredited Member of the AACD and a Fellow of the Academy of General Dentistry. Both honors highlight his commitment to dentistry and dedication to continuing education coursework. Dr. Rioseco is also an active member of the Academy of General Dentistry, American Dental Association, and Empire State Academy of Cosmetic Dentistry. He is available for interview upon request.
For more information about Dr. Rioseco and his practice, please visit zendentist.com and facebook.com/TheCenterForCosmeticDentistry.
Contact:
The Center for Cosmetic Dentistry
147 Underhill Ave
West Harrison, NY 10604
(914) 761-8229
Rosemont Media
(858) 200-0044
www.rosemontmedia.com