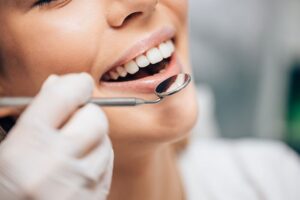 Dental crowns are often a standard option to fix a tooth that is suffering from severe damage or deterioration. These restorative treatments have been helping patients renew the function, health, and appearance of their teeth for decades. During that time, technology has seen a number of major advances, helping to make one of the most commonly performed restorative dentistry procedures even more convenient and efficient for patients. CEREC® technology is one example of how far we've come in terms of the design and production of customized dental crowns. In today's blog, we'll give you a quick rundown on the differences between CEREC® same-day crowns and traditional dental crowns so you can get an idea of how much CEREC® has changed the game.
Traditional Dental Crowns: Traditional crowns and CEREC® crowns both have the same basic purpose. They are durable tooth restorations custom-designed to reinforce a compromised tooth and prevent further deterioration, while simultaneously improving function and aesthetics. With that in mind, the process of creating a traditional dental crown is typically quite different when compared to a CEREC® crown. A traditional crown may require a putty dental impression to form the foundational blueprint for its creation. While putty impressions are not necessarily painful for patients, they can be a bit time-consuming and slightly uncomfortable. Once the impression is made for a traditional crown, it is usually sent to an outside dental laboratory to be manufactured. This can sometimes take weeks, necessitating an extra visit back to the dentist's office for final placement.
CEREC® Crowns: CEREC® same-day crowns can achieve virtually the same results as traditional crowns but at a much faster rate. With CEREC® technology, the entire process can be expedited because the crowns are made right here in the office. The dental impression, the creation of the permanent crown, and placement of the crown on the tooth can be done in a single appointment. With CEREC®, the impression is created digitally—no messy putties are necessary—which makes this part of the process much quicker and more comfortable. The CEREC® milling machine, which is here onsite, will then use the digital impression and any adjustments/modifications made by our cosmetic dentist to craft the dental crown, which can then be secured to the affected tooth. All of this can take place in just one office visit, which makes CEREC® crowns an extraordinarily convenient restorative option. Ultimately CEREC® crowns are able to provide many patients with excellent results while removing the typical waiting period that's often necessary with the traditional way of making dental crowns.
If you have questions about CEREC® same-day dental crowns or other advanced treatments available from our practice, please contact us today!