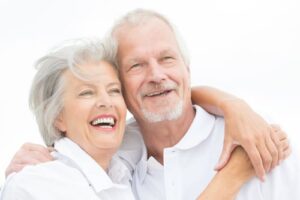 Is your smile suffering from multiple dental problems? When dental issues go undetected, unaddressed, or are improperly treated, they can instigate a domino effect, leading to more serious and widespread problems that significantly impact your dental health. For individuals facing dental problems of this magnitude it is important to know that there is a comprehensive solution available – full mouth reconstruction and rehabilitation. The terms "full mouth reconstruction" and "rehabilitation" refer to the use of several restorative and cosmetic dental treatments in a customized and carefully crafted treatment plan to rebuild and beautify a damaged smile. Treatment plans may include the following:
Most important to the lasting success of full mouth restoration is that the root sources of the damage are identified, addressed, and resolved, and the damage itself repaired with a comprehensive and holistic approach in mind. It's important not to just cover up dental problems with superficial fixes that allow deeper-lying issues to persist. When patients come to The Center for Cosmetic Dentistry, Dr. Robert Rioseco thoroughly evaluates and inspects the teeth and gums to detect all causes and expressions of damage and dysfunction. Using the latest technology and his keen eye for detail, Dr. Rioseco investigates the jaw, gums, teeth, bite and overall smile appearance for the following problems:
Broken, worn, and missing teeth
Poorly executed dentistry
Gum disease and infection
TMJ disorders
Misaligned teeth and crowding
Improper bite
Weakness of the jawbone
Tooth and gum discoloration
Excessive gum tissue or receding gum line
With a host of the most advanced cosmetic and restorative treatment options at his disposal, Dr. Rioseco carefully chooses the right procedures performed in the proper combination and sequence to provide expedient and reliable results. With full mouth restoration and rehabilitation, Dr. Rioseco is able to perform treatment that literally transforms the health and appearance of our patients' smiles. We proudly show amazing before and after photos of some of this work in our photo gallery.
For more information about full mouth reconstruction and rehabilitation services offered at our practice, or to schedule your smile evaluation appointment with Dr. Rioseco, contact us at The Center for Cosmetic Dentistry.