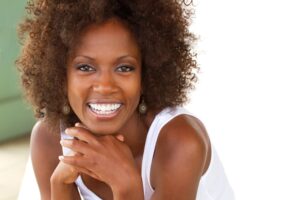 These days, braces are not the only effective remedy for teeth that show signs of misalignment and crowding. In fact, there are several options that can help both adults and adolescents correct signs of common orthodontic concerns without requiring prominent brackets and wires on their teeth to accomplish those goals.
Our cosmetic dentist offers two of the most popular treatments available to address gaps, spaces, and general misalignment in the most discreet way possible:
Invisalign®
Invisalign® can be described as a revolutionary orthodontic treatment. Utilizing a system of customized, removable aligners that are made of a flexible and clear plastic material, Invisalign® is designed to progressively move the teeth into the desired position. Gaps, crowding, and other mild to moderate forms of teeth misalignment can often be successfully resolved with Invisalign®. The aligners are so translucent that it is hard to detect them while they are on the teeth, even at a close distance.
Porcelain Veneers
Some individuals looking to straighten signs of teeth misalignment may benefit from porcelain veneers, which is an option that does not require a lengthy orthodontic treatment process. Porcelain veneers are thin, strong dental restorations that are custom-designed to resemble healthy, natural teeth. They are placed over the front and side areas of teeth in regions that exhibit excessive spacing or other mild to moderate signs of misalignment. Porcelain veneer treatments usually take just a couple of office visits to complete, offering patients a way to essentially "hide" crooked teeth behind restorations that can provide beautiful smile enhancement.
Although some individuals who suffer from orthodontic concerns that are more severe in nature may not be candidates for these treatments, there are many patients who are able to effectively achieve their goals with alternatives such as Invisalign® and porcelain veneers. For more information on these treatments, or if you would like to schedule a consultation with Dr. Robert Rioseco to talk about your options, please contact us today!