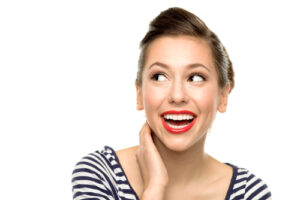 A bright, vibrant smile can have a significant impact on both your appearance and self-confidence. Our patients at The Center for Cosmetic Dentistry often seek solutions for dull, stained, and discolored teeth that can provide them with a whiter smile. Depending upon each patient's unique dental challenges and goals, Dr. Robert Rioseco may recommend in-office teeth whitening, an at-home whitening kit, or porcelain veneers.
Teeth Whitening
Teeth whitening treatments can effectively remove stains and discoloration caused by tea, coffee, wine, tobacco products, or simply the natural aging process. ZOOM!® teeth whitening is a procedure performed in our office that can dramatically lighten the shade of the teeth in an hour and a half with immediate results. This technique is the fastest whitening solution we offer, and can be ideal for patients with an important event in the near future.
Our at-home whitening kits use custom-made trays and professional strength whitening gel that can deliver much more effective results than over-the-counter products. This method of whitening allows patients to brighten their teeth more gradually at their convenience.
Porcelain Veneers
Porcelain veneers can not only eliminate visible stains or discoloration but also correct a number of other cosmetic dental imperfections. Patients who have chips, cracks, or minor tooth misalignment may benefit most from porcelain veneers for more complete smile rejuvenation. Furthermore, the high-quality porcelain material used to fabricate veneers for Dr. Rioseco's patients is stain resistant and durable. WIth proper care, veneers can last for decades.
To schedule a consultation with Dr. Rioseco and learn which cosmetic dentistry technique is best suited for your individual needs, please contact us today.