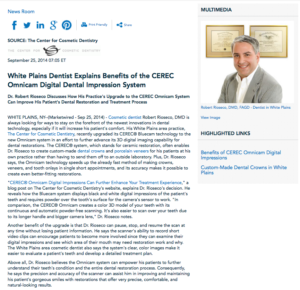 Dr. Robert Rioseco discusses how his practice's upgrade to the CEREC® Omnicam system can improve his patient's dental restoration and treatment process.
White Plains, NY – Cosmetic dentist Robert Rioseco, DMD is always looking for ways to stay on the forefront of the newest innovations in dental technology, especially if it will increase his patient's comfort. His White Plains area practice, The Center for Cosmetic Dentistry, recently upgraded its CEREC® Bluecam technology to the new Omnicam system in an effort to further advance its 3D digital imaging capability for dental restorations. The CEREC® system, which stands for ceramic restoration, often enables Dr. Rioseco to create custom-made dental crowns and porcelain veneers for his patients at his own practice rather than having to send them off to an outside laboratory. Plus, Dr. Rioseco says, the Omnicam technology speeds up the already fast method of making crowns, veneers, and tooth onlays in single short appointments, and its accuracy makes it possible to create even better-fitting restorations.
"CEREC® Omnicam Digital Impressions Can Further Enhance Your Treatment Experience," a blog post on The Center for Cosmetic Dentistry's website, explains Dr. Rioseco's decision. He reveals how the Bluecam system displays black and white digital impressions of the patient's teeth and requires powder over the tooth's surface for the camera's sensor to work. "In comparison, the CEREC® Omnicam creates a color 3D model of your teeth with its continuous and automatic powder-free scanning. It's also easier to scan over your teeth due to its longer handle and bigger camera lens," Dr. Rioseco notes.
Another benefit of the upgrade is that Dr. Rioseco can pause, stop, and resume the scan at any time without losing patient information. He says the scanner's ability to record short video clips can encourage patients to become more involved since they can examine their digital impressions and see which area of their mouth may need restoration work and why. The White Plains area cosmetic dentist also says the system's clear, color images make it easier to evaluate a patient's teeth and develop a detailed treatment plan.
Above all, Dr. Rioseco believes the Omnicam system can empower his patients to further understand their teeth's condition and the entire dental restoration process. Consequently, he says the precision and accuracy of the scanner can assist him in improving and maintaining his patient's gorgeous smiles with restorations that offer very precise, comfortable, and natural-looking results.
About Robert Rioseco, DMD, FAGD
Dr. Rioseco is a graduate of Boston College and earned his dental degree at Tufts University School of Dental Medicine. He also completed Masters Level training at the Rosenthal Institute of Cosmetic Dentistry at New York University. Dr. Rioseco serves as the director of the Center for Cosmetic Dentistry in the White Plains area, and is a Founding Member and Board Member of the Empire State Academy of Cosmetic Dentistry. Dr. Rioseco is available for interview upon request.
For more information about Dr. Rioseco and The Center for Cosmetic Dentistry, please visit zendentist.com.
Contact:
The Center for Cosmetic Dentistry
147 Underhill Ave.
West Harrison, NY 10604
914.761.8229
www.zendentist.com
Rosemont Media
(858) 200-0044
www.rosemontmedia.com