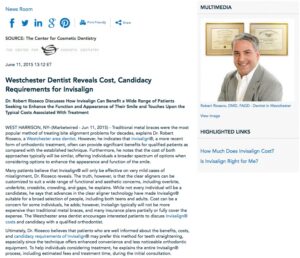 Dr. Robert Rioseco discusses how Invisalign® can benefit a wide range of patients seeking to enhance the function and appearance of their smile and touches upon the typical costs associated with treatment.
West Harrison, NY—Traditional metal braces were the most popular method of treating bite alignment problems for decades, explains Dr. Robert Rioseco, a Westchester area dentist. However, he indicates that Invisalign®, a more recent form of orthodontic treatment, often can provide significant benefits for qualified patients as compared with the established technique. Furthermore, he notes that the cost of both approaches typically will be similar, offering individuals a broader spectrum of options when considering options to enhance the appearance and function of the smile.
Many patients believe that Invisalign® will only be effective on very mild cases of misalignment, Dr. Rioseco reveals. The truth, however, is that the clear aligners can be customized to suit a wide range of functional and aesthetic concerns, including overbite, underbite, crossbite, crowding, and gaps, he explains. While not every individual will be a candidates, he says that advances in the clear aligner technology have made Invisalign® suitable for a broad selection of people, including both teens and adults. Cost can be a concern for some individuals, he adds; however, Invisalign typically will not be more expensive than traditional metal braces, and many insurance plans partially or fully cover the expense. The Westchester area dentist encourages interested patients to discuss Invisalign® costs and candidacy with a qualified orthodontist.
Ultimately, Dr. Rioseco believes that patients who are well informed about the benefits, costs, and candidacy requirements of Invisalign® may prefer this method for teeth straightening, especially since the technique offers enhanced convenience and less noticeable orthodontic equipment. To help individuals considering treatment, he explains the entire Invisalign® process, including estimated fees and treatment time, during the initial consultation.
About Robert Rioseco, DMD, FAGD
A graduate of Boston College and Tufts University School of Dental Medicine, Dr. Rioseco is extensively trained in cosmetic, restorative, and general dentistry. In addition to being a Fellow of the Academy of General Dentistry, he is also a Sustaining Member of the American Academy of Cosmetic Dentistry and a founding member of the Empire State Academy of Cosmetic Dentistry. Dr. Rioseco provides hands-on training as the director of the Center for Cosmetic Dentistry and is an active member of the American Dental Association. He is available for interview upon request.
For more information about Dr. Rioseco and his practice, please visit zendentist.com.
Contact:
The Center for Cosmetic Dentistry
147 Underhill Ave
West Harrison, NY 10604
(914) 380-4531
Rosemont Media
(858) 200-0044
www.rosemontmedia.com