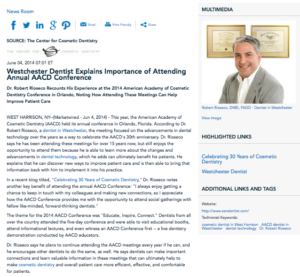 Dr. Robert Rioseco recounts his experience at the 2014 American Academy of Cosmetic Dentistry Conference in Orlando, noting how attending these meetings can help improve patient care.
West Harrison, NY — This year, the American Academy of Cosmetic Dentistry (AACD) held its annual conference in Orlando, Florida. According to Dr. Robert Rioseco, a dentist in Westchester, the meeting focused on the advancements in dental technology over the years as a way to celebrate the AACD's 30th anniversary. Dr. Rioseco says he has been attending these meetings for over 15 years now, but still enjoys the opportunity to attend them because he is able to learn more about the changes and advancements in dental technology, which he adds can ultimately benefit his patients. He explains that he can discover new ways to improve patient care and is then able to bring that information back with him to implement it into his practice.
In a recent blog titled, "Celebrating 30 Years of Cosmetic Dentistry," Dr. Rioseco notes another key benefit of attending the annual AACD Conference: "I always enjoy getting a chance to keep in touch with my colleagues and making new connections, so I appreciate how the AACD Conference provides me with the opportunity to attend social gatherings with fellow like-minded, forward-thinking dentists."
The theme for the 2014 AACD Conference was "Educate, Inspire, Connect." Dentists from all over the country attended the five-day conference and were able to visit educational booths, attend informational lectures, and even witness an AACD Conference first – a live dentistry demonstration conducted by AACD educators.
Dr. Rioseco says he plans to continue attending the AACD meetings every year if he can, and he encourages other dentists to do the same, as well. He says dentists can make important connections and learn valuable information in these meetings that can ultimately help to make cosmetic dentistry and overall patient care more efficient, effective, and comfortable for patients.
About Robert Rioseco, DMD, FAGD
Dr. Rioseco is an active member of the American Academy of Cosmetic Dentistry, as well as a Board Member and one of the founding members of the Empire State Academy of Cosmetic Dentistry. He earned his dental degree from Tufts University School of Dental Medicine, and he has also completed Masters Level training at the Rosenthal Institute of Cosmetic Dentistry at NYU. Dr. Rioseco is available for interview upon request.
For more information about Dr. Rioseco and his practice, please visit zendentist.com.
Contact:
The Center for Cosmetic Dentistry
147 Underhill Ave
West Harrison, NY 10604
(914) 380-4531
Rosemont Media
tom@rosemontmedia.com
(858) 200-0044
www.rosemontmedia.com