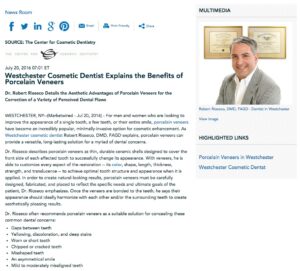 Dr. Robert Rioseco details the aesthetic advantages of porcelain veneers for the correction of a variety of perceived dental flaws.
Westchester, NY – For men and women who are looking to improve the appearance of a single tooth, a few teeth, or their entire smile, porcelain veneers have become an incredibly popular, minimally-invasive option for cosmetic enhancement. As Westchester cosmetic dentist Robert Rioseco, DMD, FAGD explains, porcelain veneers can provide a versatile, long-lasting solution for a myriad of dental concerns.
Dr. Rioseco describes porcelain veneers as thin, durable ceramic shells designed to cover the front side of each affected tooth to successfully change its appearance. With veneers, he is able to customize every aspect of the restoration – its color, shape, length, thickness, strength, and translucence – to achieve optimal tooth structure and appearance when it is applied. In order to create natural-looking results, porcelain veneers must be carefully designed, fabricated, and placed to reflect the specific needs and ultimate goals of the patient, Dr. Rioseco emphasizes. Once the veneers are bonded to the teeth, he says their appearance should ideally harmonize with each other and/or the surrounding teeth to create aesthetically pleasing results.
Dr. Rioseco often recommends porcelain veneers as a suitable solution for concealing these common dental concerns:
Gaps between teeth
Yellowing, discoloration, and deep stains
Worn or short teeth
Chipped or cracked teeth
Misshaped teeth
An asymmetrical smile
Mild to moderately misaligned teeth
Candidates for porcelain veneers must have good dental health and adequate tooth structure to properly support a veneer long-term, says Dr. Rioseco. For those interested in achieving quality results with porcelain veneers, he highly recommends choosing an experienced cosmetic dentist with a proven record of success with veneers. Reviewing before-and-after photos of previous patients can typically provide insight into the caliber of results one can expect, he adds. Ultimately, a consultation with a skilled and thorough dentist should yield a detailed treatment plan designed to deliver a beautiful, natural-looking smile.
About Robert Rioseco, DMD, FAGD
Dr. Rioseco has over 30 years of experience as a leading cosmetic and restorative dentist in West Harrison, New York. He is the Director of The Center for Cosmetic Dentistry, which is both a state-of-the-art dental practice and teaching facility. Dr. Rioseco is a graduate of Boston College (undergraduate) and Tufts University of Dental Medicine, and he has been distinguished among his peers as a Fellow of the Academy of General Dentistry, an honor that reflects his dedication to his craft and to continuing education. He is an active member of several professional organizations, including the American Academy of Cosmetic Dentistry and the Empire State Academy of Cosmetic Dentistry. He is available for interview upon request.
For more information about Dr. Rioseco and his practice, please visit zendentist.com and plus.google.com/+Zendentist/about.
Contact:
The Center for Cosmetic Dentistry
147 Underhill Ave
West Harrison, NY 10604
(914) 761-8229
Rosemont Media
(858) 200-0044
www.rosemontmedia.com