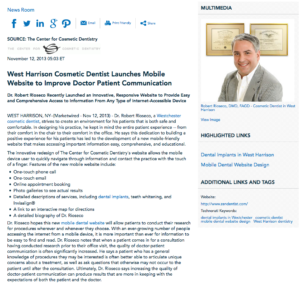 Dr. Robert Rioseco recently launched an innovative, responsive website to provide easy and comprehensive access to information from any type of internet-accessible device.
West Harrison, NY – Dr. Robert Rioseco, a Westchester cosmetic dentist, strives to create an environment for his patients that is both safe and comfortable. In designing his practice, he kept in mind the entire patient experience—from their comfort in the chair to their comfort in the office. He says this dedication to building a positive experience for his patients has led to the development of a new mobile-friendly website that makes accessing important information easy, comprehensive, and educational.
The innovative redesign of The Center for Cosmetic Dentistry's website allows the mobile device user to quickly navigate through information and contact the practice with the touch of a finger. Features of the new mobile website include:
One-touch phone call
One-touch email
Online appointment booking
Photo galleries to see actual results
Detailed descriptions of services, including dental implants, teeth whitening, and Invisalign®
A link to an interactive map for directions
A detailed biography of Dr. Rioseco
Dr. Rioseco hopes this new mobile dental website will allow patients to conduct their research for procedures wherever and whenever they choose. With an ever-growing number of people accessing the internet from a mobile device, it is more important than ever for information to be easy to find and read. Dr. Rioseco notes that when a patient comes in for a consultation having conducted research prior to their office visit, the quality of doctor-patient communication is often significantly increased. He says a patient who has a general knowledge of procedures they may be interested is often better able to articulate unique concerns about a treatment, as well as ask questions that otherwise may not occur to the patient until after the consultation. Ultimately, Dr. Rioseco says increasing the quality of doctor-patient communication can produce results that are more in keeping with the expectations of both the patient and the doctor.
Whether Dr. Rioseco's West Harrison dentistry patients are visiting his practice for tooth whitening, dental implants, a routine cleaning and oral exam, or other procedures, his goal is to continually enhance their overall experience. As a cosmetic dentist, Dr. Rioseco continually strives to integrate both form and function into every aspect of his career for the benefit of the patient—and this design principle extends from his dental work, to the in-office atmosphere of his practice, to his online presence.
About Robert Rioseco, DMD, FAGD
After receiving his undergraduate degree from Boston College, Dr. Robert Rioseco went on to graduate from the Tufts University School of Dental Medicine, and completed his general practice residency at New York Medical College. He has also completed Masters Level training at the Rosenthal Institute of Cosmetic Dentistry at NYU, and is currently a Sustaining Member of the American Academy of Cosmetic Dentistry. In addition to serving as a Founding Member and Board Member of the Empire State Academy of Cosmetic Dentistry, Dr. Rioseco is the current director of the Center for Cosmetic Dentistry in West Harrison, NY. He is available for interview upon request.
For more information about Dr. Robert Rioseco and The Center for Cosmetic Dentistry, please visit zendentist.com or facebook.com/pages/Center-for-Cosmetic-dentistry/109601139088704.
Contact:
The Center for Cosmetic Dentistry
147 Underhill Ave.
West Harrison, NY 10604
(914) 380-4531
Rosemont Media
tom@rosemontmedia.com
(858) 200-0044
www.rosemontmedia.com