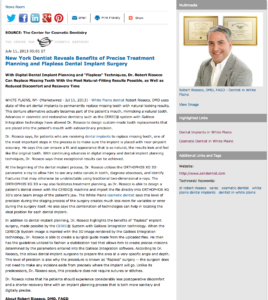 With digital dental implant planning and "flapless" techniques, Dr. Robert Rioseco can replace missing teeth with the most natural-fitting results possible, as well as reduced discomfort and recovery time.
White Plains, NY – White Plains dentist Robert Rioseco, DMD uses state-of-the-art dental implants to permanently replace missing teeth with natural-looking results. This denture alternative actually becomes part of the patient's mouth, mimicking a natural tooth. Advances in cosmetic and restorative dentistry such as the CEREC® system with Galileos Integration technology have allowed Dr. Rioseco to design custom-made tooth replacements that are placed into the patient's mouth with extraordinary precision.
Dr. Rioseco says, for patients who are receiving dental implants to replace missing teeth, one of the most important steps in the process is to make sure the implant is placed with near-pinpoint accuracy. He says this can ensure a fit and appearance that is so natural, the results look and feel like the original tooth. With continuing advances in digital imagery and dental implant planning techniques, Dr. Rioseco says these exceptional results can be achieved.
At the beginning of the dental implant process, Dr. Rioseco utilizes the ORTHOPHOS XG 3D panoramic x-ray to allow him to see any extra canals in teeth, diagnose abscesses, and identify fractures that may otherwise be undetectable using traditional two-dimensional x-rays. The ORTHOPHOS XG 3D x-ray also facilitates treatment planning, as Dr. Rioseco is able to design a patient's dental crown with the CEREC® machine and import the file directly into ORTHOPHOS XG 3D's cone beam image of the patient's jaw. The White Plains cosmetic dentist says this level of precision during the staging process of the surgery creates much less room for variables or error during the surgery itself. He also says this combination of technologies can help in locating the ideal position for each dental implant.
In addition to dental implant planning, Dr. Rioseco highlights the benefits of "flapless" implant surgery, made possible by the CEREC® System with Galileos Integration technology. When the CEREC® System image is married with the 3D image rendered by the Galileos Integration technology, Dr. Rioseco is able to create a surgical guide made from the uploaded files. He then has the guidelines utilized to fashion a stabilization tool that allows him to create precise incisions determined by the parameters entered into the Galileos Integration software. According to Dr. Rioseco, this allows dental implant surgeons to prepare the area at a very specific angle and depth. This level of precision is also why the procedure is known as "flapless" surgery—the surgeon does not need to make any incisions aside from precisely where the implant will go. Unlike its predecessors, Dr. Rioseco says, this procedure does not require sutures or stitches.
Dr. Rioseco notes that his patients should experience considerably less postoperative discomfort and a shorter recovery time with an implant planning process that is both more sanitary and digitally precise.
About Robert Rioseco, DMD, FAGD
A graduate of Boston College, Dr. Robert Rioseco earned his dental degree at Tufts University School of Dental Medicine. Dr. Rioseco later went on to complete Masters Level training at the Rosenthal Institute of Cosmetic Dentistry at New York University. He serves as the director of the Center for Cosmetic Dentistry in East White Plains, and is a founding member and Board Member of the Empire State Academy of Cosmetic Dentistry. Dr. Rioseco is available for interview upon request.