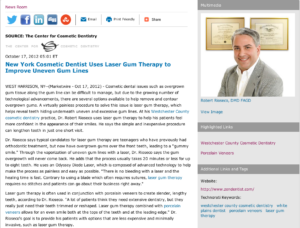 West Harrison, NY–Cosmetic dental issues such as overgrown gum tissue along the gum line can be difficult to manage, but due to the growing number of technological advancements, there are several options available to help remove and contour overgrown gums. A virtually painless procedure to solve this issue is laser gum therapy, which helps reveal teeth hiding underneath uneven and excessive gum lines. At his Westchester County cosmetic dentistry practice, Dr. Robert Rioseco uses laser gum therapy to help his patients feel more confident in the appearance of their smiles. He says the simple and inexpensive procedure can lengthen teeth in just one short visit.
Dr. Rioseco says typical candidates for laser gum therapy are teenagers who have previously had orthodontic treatment, but now have overgrown gums over the front teeth, leading to a "gummy smile." Through the vaporization of uneven gum lines with a laser, Dr. Rioseco says the gum overgrowth will never come back. He adds that the process usually takes 20 minutes or less for up to eight teeth. He uses an Odyssey Diode Laser, which is composed of advanced technology to help make the process as painless and easy as possible. "There is no bleeding with a laser and the healing time is fast. Contrary to using a blade which often requires sutures, laser gum therapy requires no stitches and patients can go about their business right away."
Laser gum therapy is often used in conjunction with porcelain veneers to create slender, lengthy teeth, according to Dr. Rioseco. "A lot of patients think they need extensive dentistry, but they really just need their teeth trimmed or reshaped. Laser gum therapy combined with porcelain veneers allows for an even smile both at the tops of the teeth and at the leading edge." Dr. Rioseco's goal is to provide his patients with options that are less expensive and minimally invasive, such as laser gum therapy.
At his practice, Dr. Rioseco is experienced in a variety of cosmetic, general and restorative dentistry procedures, such as smile makeovers, root canal therapy, teeth whitening and dental implants. The White Plains dentist and his team at The Center for Cosmetic Dentistry employ the most advanced dental techniques and devote time to listening to each patient's unique needs in an effort to help patients obtain the most natural-looking results. Dr. Rioseco says he uses his extensive experience in the field of cosmetic dentistry in every procedure, contributing to the practice's overall mission of providing quality patient care.
About Robert Rioseco, DMD, FAGD
Dr. Robert Rioseco is a member of the American Academy of Cosmetic Dentistry and is the founding member of the Empire State Academy of Cosmetic Dentistry. He is a graduate of Tufts University School of Dental Medicine and holds a Fellowship at the Academy of General Dentistry. Dr. Rioseco has completed hundreds of hours of continuing education and has obtained Masters Level training at the Rosenthal Institute of Cosmetic Dentistry at NYU. He is a member of a number of professional organizations and is currently the director of the Center for Cosmetic Dentistry in West Harrison, NY.
The Center for Cosmetic Dentistry is located at 147 Underhill Ave. in West Harrison, NY. Dr. Rioseco and his team can be contacted at 914-380-4531, or online at zendentist.com.