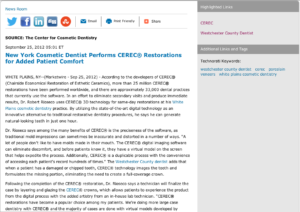 White Plains, NY—According to the developers of CEREC® (Chairside Economical Restoration of Esthetic Ceramics), more than 25 million CEREC® restorations have been performed worldwide, and there are approximately 33,000 dental practices that currently use the software. In an effort to eliminate secondary visits and produce immediate results, Dr. Robert Rioseco uses CEREC® 3D technology for same-day restorations at his White Plains cosmetic dentistry practice. By utilizing the state-of-the-art digital technology as an innovative alternative to traditional restorative dentistry procedures, he says he can generate natural-looking teeth in just one hour.
Dr. Rioseco says among the many benefits of CEREC® is the preciseness of the software, as traditional mold impressions can sometimes be inaccurate and distorted in a number of ways. "A lot of people don't like to have molds made in their mouth. The CEREC® digital imaging software can eliminate discomfort, and before patients know it, they have a virtual model on the screen that helps expedite the process. Additionally, CEREC® is a duplicable process with the convenience of accessing each patient's record hundreds of times." The Westchester County dentist adds that when a patient has a damaged or chipped tooth, CEREC® technology images the tooth and formulates the missing portion, eliminating the need to create a full-coverage crown.
Following the completion of the CEREC® restoration, Dr. Rioseco says a technician will finalize the case by layering and glazing the CEREC® crowns, which allows patients to experience the product from the digital process with the added artistry from an in-house lab technician. "CEREC® restorations have become a popular choice among my patients. We're doing more large case dentistry with CEREC® and the majority of cases are done with virtual models developed by CEREC®. All the understructures of the crowns are made with milling material, which provides a much stronger and longer-lasting crown."
With the convenience of CEREC® in-office technology, Dr. Rioseco is hopeful that his patients can enjoy the benefits of the expedited process and natural-looking results. Regardless of which cosmetic or restorative procedure patients choose, such as porcelain veneers or Invisalign®, Dr. Rioseco and the rest of his team at The Center for Cosmetic Dentistry work diligently to fulfill each patient's needs and facilitate a stress-free environment. He adds that CEREC® technology helps him fulfill his practice's overall mission and make his patients' visits as comfortable as possible.
About Robert L. Rioseco, DMD, FAGD
Dr. Robert Rioseco is a graduate of Tufts University School of Dental Medicine and is the founding member of the Empire State Academy of Cosmetic Dentistry. He completed his General Practice Residency at New York Medical College and obtained Masters Level training at the Rosenthal Institute of Cosmetic Dentistry at NYU. Currently, Dr. Rioseco holds a Fellowship at the Academy of General Dentistry and is also a member of the American Dental Association. He is the director of the Center for Cosmetic Dentistry in West Harrison, NY.
The Center for Cosmetic Dentistry is located at 147 Underhill Ave. in West Harrison, NY. Dr. Rioseco and his team can be contacted via phone at 914-380-4531, or online at zendentist.com.